I've been experimenting with grips once again, and thought it wise to give Stephen A. Camp's suggestion of Precision Gun Specialties' Hideout Grips a try. I ordered up a set of the polymer grips from Midway, and anxiously awaited delivery.
When the package arrived, I tore into it knowing up-front from reading the Hi Powers and Handguns article, that the grips would have to be modified to work with Speedloaders. I usually carry Speedstrips, so I left them "stock" for the time being, and installed them posthaste.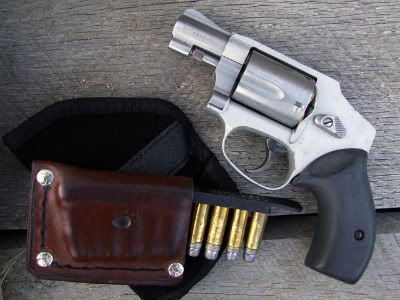 The Hideouts won't win any beauty awards, but I really like the texture and feel of these grips. They fill the hand nicely, offering a firm grip without being either slick or sticky. Since they're black, they do a better job of hiding the butt of the little J-frame when "in pocket" then the stags I removed - a nice touch to be sure.
After giving these grips the good old college try for a few weeks I have to say that (in my humble opinion) they are exceptional pocket revolver grips - bettering any others that I've tried by a healthy margin. They also absorb felt recoil well for a hard-surface grip.
Since any CCW revolver grip absolutely must be able to accept reloads via Speedloader, I broke out the Dremel and a square of 220 grit and went to work. Less than 10-minutes later the left-side grip had been whittled down to an acceptable size. A great thumb rest is an added benefit of the modification. Actually, I realized after using the Dremel, that sandpaper would have sufficed - the polymer is soft enough to modify quite easily.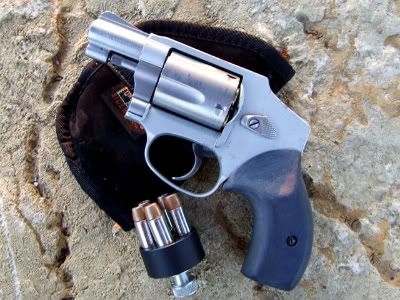 My 642-1, equipped with Precision Gun Specialties' Hideout grips weighs in at a svelte 14.5 oz. - a weight savings of 1/2 oz. over the standard grips.
Precision Gun Specialties
Midway USA
rd